Workload Statistics
In January 2008 BASICS Hampshire members responded to 58 calls for assistance from the ambulance service. There were more requests for assistance than this, but our members work full time and can only respond when they are off work.
Pie Chart of the types of incidents attended in January 2008 (58 incidents total)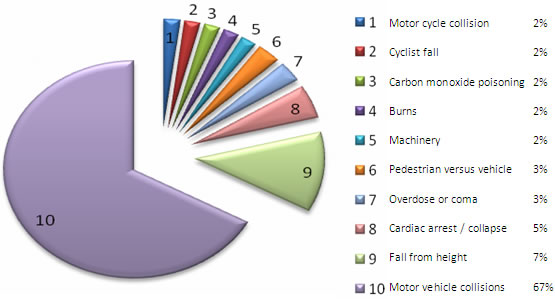 BASICS Hampshire provides interventions which can only be delivered by specialist doctors.
When a casualty requires hospital level care before they reach the hospital, a BASICS doctor is called by the ambulance service. However, in Hampshire these doctors are volunteers and have full time jobs for the NHS. Whether the casualty receives the care they require is entirely dependent upon a BASICS doctor being off work.
The level of care we offer is not provided by any other service in Hampshire.
Examples of Hospital Level Care Provided During January 2008
A general anaesthetic makes the patient unconscious and can only be given by a doctor with specialist training. Putting a patient onto a breathing machine can only be carried out by a doctor with specialist training.
In January 2008, 16 of the 58 patients attended needed our doctors to give anaesthetic drugs in order to manage pain, to provide sedation or to give full general anaesthesia. This is illustrated in the pie chart below.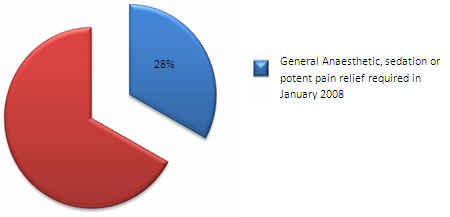 Our clinicians provide advanced wound management, life saving minor surgery and can give drugs into the large blood vessels leading to the heart. This was required in 10 of the 58 patients seen in January 2008.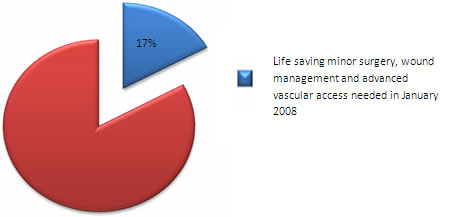 These are just two examples of the significant difference to patient care that our clinicians make.
Destination Triage – Choosing the best destination
We also alter the destination of patients. BASICS Hampshire doctors decide on the best hospital for the patient and then escort them there. The patient would otherwise have been taken to the nearest hospital. In January 2008, 26 of 58 patients had their destination altered by our doctors.