0200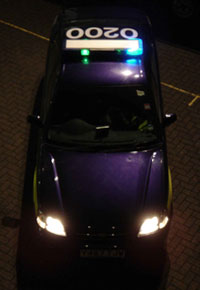 The North Hampshire BASICS 0200 Team provides pre-hospital critical care in the North Hampshire Area. The Team is based at The North Hampshire Hospital in Basingstoke. All members are full BASICS members who share a response vehicle (callsign '0200', hence the Team's name) and work according to common procedures, alongside other BASICS responders in the area.
The Team began in 2004 and since then we have attended the following tyes of incident:
1. Motor crashes with trapped casualties – this is the commonest case requiring our help
2. Acutely confused patients requiring sedation
3. Injured elderly and paediatric patients who are in too much pain to be moved
4. Major incidents – we ran the Casualty Clearing Station at the Ufton Nervet Rail Disaster in November 2004, and were asked to ready a team for deployment at the London Bombings in July 2005
5. Police Armed Response incidents – we attended a hostage siege in Basingstoke.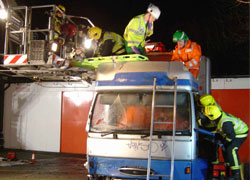 The advantages of working as a team include the opportunity to train with each other and with the local ambulance and fire service crews, and some of the pictures on this site are of training nights using simulated casualties.
Our training is organised by Hampshire BASICS' only consultant nurse, Mr Bruce Armstrong, whose pre-hospital expertise is a great resource for the doctors in the Team.
The challenge for the coming year for the North Hampshire BASICS 0200 Team is to increase our availability. As a volunteer service, all members have full time jobs and so we would like to train and equip more members of the Team so that ultimately all calls for help are answered. We are actively involved in fundraising to help us work towards this. For further information contact the Officer in Charge of the 0200 Team, Dr Cliff Reid, or for assistance with fundraising call Sindy Coppin on 01256 397361