Once there were two, now there's just one – it takes a lot to train someone to ride a high performance bike and be able to deliver high performance critical care at the end of it.
So our current high performance rider is Bruce Armstrong. The whole point about the IMBIKE is that it can get to places other transport (cars, helicopters) can't reach – so congested urban areas; pedestrian precincts – and anywhere there's loads of traffic or huge public gatherings.
Ironically its last "save" was Jordon Griffin, himself a bike rider – and that was simply BASICS Hampshire's Bruce Armstrong being there at the right time on open roads. You can read the story in our case histories.
The IMBIKE  also turns up for the  road safety education programmes and we are partners with the Hampshire Constabulary BIKESAFE Team in delivering a motorcyclists "First on Scene and Immediate First Aid Course".
The IMBIKE is based in Basingstoke  but can be tasked anywhere.  Bruce Armstrong is its current qualified rider having passed a Police riding course.
No funding for BASICS Hampshire or the IMBIKE Project comes from the ambulance service or from central government. We operate in a similar manner to the RNLI or Mountain Rescue in supporting our parent emergency service but being funded in the majority by public donations.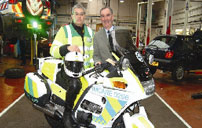 The IMBIKE Project was originally supported by: Hampshire County Council, Lord Sainsbury (via The Linbury Trust), The Hampshire Goldwing Club, The Red Lion Pub in Stubbington, The Motorcycle Action Group, The Gosport and Fareham Round Table, Wey Valley Advanced Motorcyclists, TycoHealthcare, and Lord Montagu. Hampshire Constabulary have also greatly assisted us in starting and maintaining this project. The  first IMBIKE was originally a police vehicle.